---
日期: August 27, 2009
ISBN: 9781430219743
页数: 280
语言: English
出版社: Apress
The poster (email) is not available. 收藏推荐:
---
图书介绍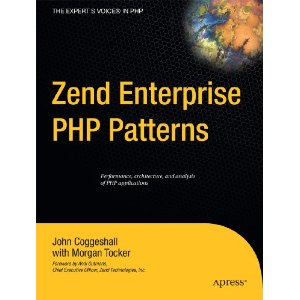 Book Description
Zend Enterprise PHP Patterns is the culmination of years of experience in the development of web-based applications designed to help enterprises big and small overcome the new challenges of the web-based application world and achieve harmony in not only the architecture of their application, but also the entire process under which that application is created and maintained. Taken directly from real-life experiences in PHP application development, Zend Enterprise PHP Patterns will help you
Utilize open source technologies such as PHP and Zend Framework to build robust and easy-to-maintain development infrastructures.
Understand Zend Framework and its philosophical approach to building complex yet easy-to-maintain libraries of functionality for your application that can scale with your needs.
Benefit through an in-depth discussion of tools and techniques that can significantly enhance your ability to develop code faster, fix bugs, and increase performance.
What you'll learn
Understand how to build your applications and configure your production environments (both the web server and database servers) to maximize performance while enabling them to scale to meet your performance needs.
Learn how to build PHP-based libraries that solve your needs without falling into the trap of over-architecturing while leveraging powerful tools like Zend Framework to reduce development time.
Understand the importance of PHP application security and the most common security threats, but more importantly, how to incorporate a security focus into your entire development life cycle.
Learn how to use tooling to gather metrics and identify performance bottlenecks in your application to maximize performance.
Who is this book for?
This book is for intermediate–level PHP developers who will be coding in an enterprise environment and architects and project managers who will be working in a PHP enterprise environment.
About the Author
John Coggeshall is chief technology officer of Automotive Computer Services, providing cutting–edge software solutions to car dealerships nationwide. A former senior member of Zend Technologies' Global Services team, he got started with PHP in 1997 and is the author of three published books and over 100 articles on PHP technologies. John also is an active contributor to the PHP core as the author of the tidy extension, a member of the Zend Education Advisory Board, and frequent speaker at PHP–related conferences worldwide. His web site, www.coggeshall.org, is an excellent resource for any PHP developer.
[Directly Download] Zend Enterprise PHP Patterns!
Download this book
Free download ezdownloader, then you can free download.
Download "Zend Enterprise PHP Patterns"
使用ezdownloader下载
Copyright Disclaimer:
本站一切内容源于互联网搜索,禁止商用! 如有任何不妥请联系:
[email protected]
,我们将在24小时内删除相关内容。
浏览量:
0
添加时间:2013-12-23 05:19:58, 更新时间:2013-12-23 05:19:58, shared by
ecabuk
---
搜索该书!...
Search mirrors of
"Zend Enterprise PHP Patterns"
...
---
下载链接
Free Magazine Subscriptions & Technical Document Downloads
推荐:使用EZdownloader下载电子书
"Zend Enterprise PHP Patterns" 下载链接:
Download Link1:
如何下载?
你可能需要
电骡或者BT软件
下载
BT种子
或者
电骡链接
.
报告死链接
请留言报告死链接,在留言板里可以看到你在该页的留言。
---
相关链接
"Zend Enterprise PHP Patterns" 相关链接:
---
Comments
"Zend Enterprise PHP Patterns" 没有评论.
Leave a Comment
如果没有下载链接或者下载链接无效,请查看相关链接或者搜索相关资料。